Exploring how we do science-based modeling and simulation, and how new paradigms in this field are delivering next-generation product design systems with modeling and simulation at their core.
A brief history of science-based modeling and simulation
The concepts of CAD (computer-aided design) modeling and CAE (computer-aided engineering) simulation are not new and have roots stretching back to the late 1970s. It wasn't until the 1990s that CAE started to be considered a useful tool for product design problems, such as stress analysis and fluid flow prediction for simple components. However, it took many years of hard work from developers and analysts to prove that science-based modeling and simulation could robustly and consistently replicate the complex physics of real-world complex models. Now science-based modeling and simulation have become fully accepted into the design process and are ubiquitous in all industries, but how we approach it has barely changed… until now.
A new paradigm for modeling and simulation
Historically, the main focus for simulation has been placed on improving accuracy and making simulations more realistic – but we are now at an interesting point in the development of simulation, whereby the accuracy of simulations should be a given, it is their efficiency, robustness, and their integration within product design is becoming the key differentiator.
In order to build next-generation product design systems, it is necessary to rethink the paradigm of how modeling and simulation are performed. The 3DEXPERIENCE platform from Dassault Systèmes has been built from the ground up with unified and integrated modeling and simulations at its core.
Unified modeling and simulation – MODSIM
The concept behind MODSIM on the 3DEXPERIENCE platform is quite simple but has far-ranging consequences. MODSIM unifies the data model behind the modeling (CAD) and simulation (CAE) so that there is no longer a distinction. This immediately brings benefits in terms of removing barriers and friction when creating simulations, since we no longer have to export or convert our models to create simulations. But one of the main benefits is that the model and the simulation are fully associated with each other, which means that the simulation can directly reference features, parameters, and connections of the model, which makes it simple to perform design space explorations, and also means that when the model is updated the simulation can automatically update too.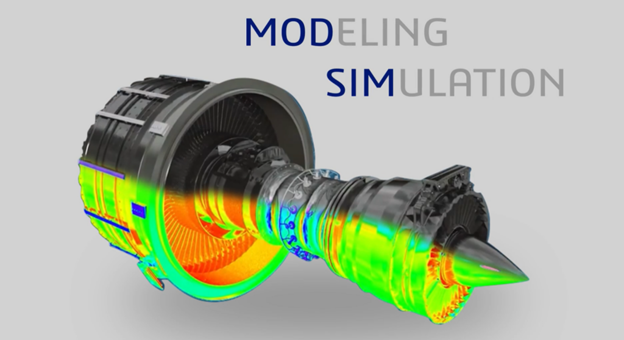 When considering simulation, we typically concentrate on the end-to-end simulation process from model to results, but of course, in any organization, this does not happen in isolation. The reason we are performing simulations is to verify and optimize the performance of a product in design against a given requirement or target KPI. This means that the input to the simulation and its output is part of a wider product development process that needs to be connected with other stakeholders.
This is where the MODSIM paradigm on 3DEXPERIENCE really comes into its own.  The 3DEXPERIENCE platform is a unique offering, which integrates all product development functions in one place – this means that MODSIM is directly connected with the PLM system, which means that the often tedious process of sourcing the correct parts for our simulation model becomes trivial since we can now synchronize our simulation model with the PLM data, bringing significant efficiency savings over today's legacy disconnected systems.
The simulations of course though, don't happen in isolation – they are part of an overall test strategy to verify that the product meets or exceeds its requirements and target KPIs. The 3DEXPERIENCE platform has capabilities not only to create and perform the simulations but also to manage this verification process, linking the simulations with the product requirements and KPIs that are driving our testing, and also linking them with simulation and physical test plans to deliver the verification results in a timely manner. The output of this verification process often raises issues and results in changes to the design. The 3DEXPERIENCE platform can manage these issues and change requests, and even manage the overall product delivery plans and milestones – all from the single integrated environment.
Automated modeling and simulation – MODSIM
As everyone strives for incremental gains in efficiency and performance, it is critical to maximizing the levels of automation in the design process. Typical simulation automation solutions involve using scripts or bespoke GUIs to automate repetitive tasks, but these solutions tend to lack robustness and require frequent maintenance. By leveraging the automation capabilities of 3DEXPERIENCE, it is now possible to provide out-of-the-box automated solutions simulation that can be used at an industrial scale with little expertise and maintenance required.
Democratized modeling and simulation – MODSIM
Simulation users have typically required significant expertise and experience to become proficient. This has a cost associated with it, but also means that often the high-value skills are being used in a repetitive and inefficient manner. By leveraging the latest integrated and automated solutions, it is now possible to democratize simulation and make even complex simulation workflows available to designers and non-experts on the 3DEXPERIENCE platform. This can significantly speed up the design process and free up simulation experts to focus on more high-value and creative work.
The future of science-based modeling and simulation
There is no doubt that the product design systems of the future will have modeling and simulation integrated at their core. So, it is no surprise that some of the most demanding and cutting-edge companies in the world have turned to the 3DEXPERIENCE platform from Dassault Systèmes to give themselves a competitive advantage. Formula 1 teams, automotive OEMs, including many high-profile electric vehicle manufacturers, and aerospace and high-tech companies have all decided that an integrated and unified approach for modeling and simulation is the way to elevate themselves and their products beyond their competition. Shouldn't yours?
---
SIMULIA offers an advanced simulation product portfolio, including Abaqus, Isight, fe-safe, Tosca, Simpoe-Mold, SIMPACK, CST Studio Suite, XFlow, PowerFLOW, and more.