CATIA V5 on the 3DEXPERIENCE platform provides the digital tools that today's product design teams need to fully leverage the benefits of connected engineering. Powerful design tools paired with extensive collaboration and data management capabilities all hosted on the same cloud-connected platform enable companies to streamline the entire product design and manufacturing cycle.
Streamline Communication
Connected engineering enables your engineering teams to seamlessly work together on any design project. The 3DEXPERIENCE platform offers a wide range of tools and features that allow teams to work together in real time including the ability to share and manage design data as well as review and approve version-controlled iterations. Without needing several different programs or file storage systems, engineers can quickly identify and address design issues and make adjustments when necessary.
Companies can more effectively communicate with partners, suppliers, and customers, increasing efficiency and minimizing wait time between emails or conference calls. When everyone involved in the project has access to the same, constantly up-to-date data and design models you get relevant feedback from different sources faster and more reliably, all in one organized location that you can access from any device.
Design, Test, and Manufacture
One of the key benefits of leveraging CATIA and 3DEXPERIENCE platform is the ability to create 3D models that are accurate, with smart connections to easily communicate design details, and reduce the time and cost associated with product development. Annotate your designs with technical specs and documentation to show an unprecedented amount of detail. Insert drawing views catered to your extended value network. Even share view-only or review mode models with non-CAD user stakeholders for fast reliable feedback loops.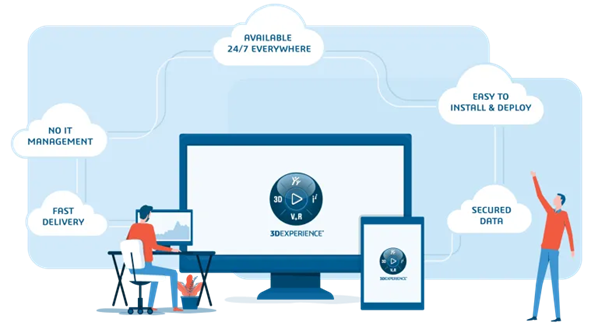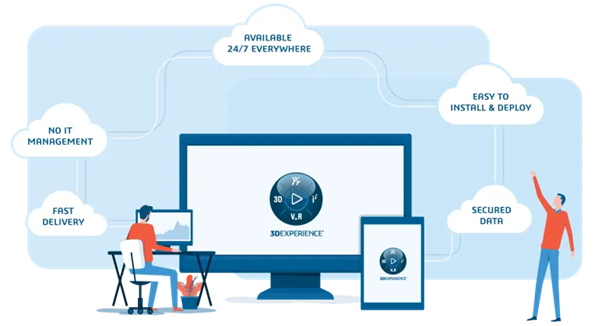 To move seamlessly between design and simulation testing, the 3DEXPERIENCE platform provides engineers with the ability to quickly develop accurate simulations and digital prototypes. This enables teams to test and validate designs in a virtual environment, reducing the time and cost of physical prototypes. Generate manufacturing documentation and rapidly produce high-quality parts and products. Implementing connected engineering workflows using CATIA and the 3DEXPERIENCE platform lets you go from design to test, to iteration, to final fully-documented product design without interruption to get perfectly manufactured products every time.
Integrate Existing Processes
Finally, CATIAon the 3DEXPERIENCE lets you integrate your existing toolkit into your cloud-connected workflow. Keep things running without missing a step with your familiar CAD, CAE, PLM, and more connected to improve efficiency across your design process. Maintain the flexibility to make changes and scale when necessary, without worrying about file compatibility, revisions, missing documentation, or departmental silos. Drastically reduce the time and costs associated with product development.
Overall, the CATIA and 3DEXPERIENCE platform are some of the most powerful and versatile tools available for product design and engineering. By leveraging the capabilities of these platforms, companies can create more accurate and realistic 3D models, collaborate with their partners and customers, and integrate different tools and technologies into their workflow. This results in a more efficient and cost-effective product development process. For more information and to explore the possibilities of connected Mechanical Engineering solutions available through the 3DEXPERIENCE platform , click here to visit the 3DEXPERIENCE store or reach out to our teams with any questions